[[Image:|258px]]
Lori Loud
Background information
Feature films
Television programs
The Loud House
Video games
Park attractions
Portrayed by
Portrayed by
Animators
Voice
Performance model
Designer
Inspiration
Honors and awards
Character information
Full name
Lori Loud
Other names
Personality
Beautiful, bossy
Appearance
Tall and very slender, long blonde hair, both blue tank top and shoes, brown shorts
Birthday
June 18, 1999
Occupation
Affiliations
Good
Goal
Home
Relatives
Lucy Loud, Lincoln Loud
Pets
Allies
Minions
Enemies
Likes
Talking on the phone
Dislikes
Clyde
Powers and abilities
Weapons
Fate
Quote
[Source]
Lori Loud is a main character in The Loud House.
Biography
Edit
At 17 years old, Lori is the eldest of the Loud children and oldest of Lincoln's five older sisters, a fact she uses to assert authority and dominance over her siblings. She can be bossy and condescending, but she cares deeply about Lincoln and her sisters. She has a boyfriend named Bobby who she is constantly texting and talking to on her phone.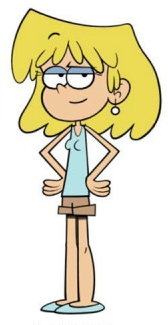 Nick Description
Edit
"Lori Loud is 'literally' the oldest of the Loud children. She's the self-proclaimed boss and the only sister with a driver's license...so it pays to stay on her good side. A professional texter and avid eye-roller, Lori is never afraid to tell people how she feels."
Appearance
Edit
Lori is tall and has large blonde hair (a genetic trait she shares with her Mother). She wears pearl earrings, a light blue tanktop, brown cargo shorts and blue slip-on shoes, and blue eye shadow. Her PJs include a sky blue nightshirt and blue slippers. Her swimsuit is a stripped swimming dress with black leggings.
She is very similar to the Pacifica Northwest from Gravity Falls.
She might be the largest of all sisters.